Ash Wednesday
Ash Wednesday marks the beginning of six and a half weeks of repentance, fasting and abstinence in preparation for Easter.
For Christians, ashes are a symbol of penitence for things they have done wrong and for which they wish to be forgiven. It is also a reminder that we all come from ashes, and to ashes we all will return. The ashes are prepared and blessed by the priest, and placed on the forehead of the worshiper. Christians believe this marks the physical and spiritual beginning of a personal Lent.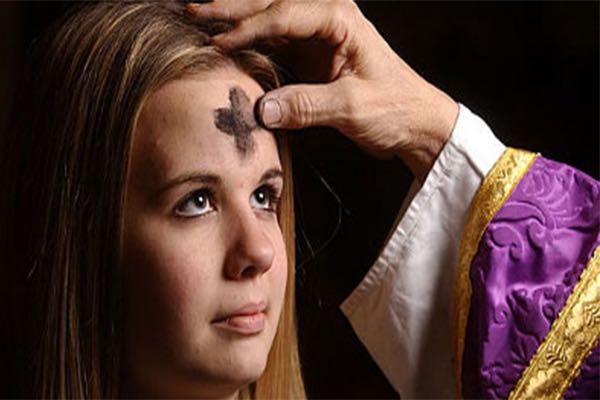 What are the Ashes?
The priest first burns the palm crosses that were kept from the previous year's Palm Sunday services and then mixes the ashes with holy water (which has been blessed) to make a greyish paste. The priest delivers the blessing by dipping his thumb in the paste and uses it to make the sign of the cross on each person's forehead.
Maundy Thursday
Maundy Thursday, also called Holy Thursday, is the beginning of the three day celebration of Easter. This period is called "The Triduum" and encompasses remembering the last supper, the crucifixion and the death of Jesus, and the Resurrection. It is the day before Good Friday.
Maundy Thursday commemorates the Last Supper of Jesus with his Disciples. During the meal Jesus took bread and wine and shared them with his disciples. We remember this each Sunday with the Eucharist. It is the night on which Jesus was betrayed by Judas in the Garden of Gethsemane.
The word 'Maundy' was derived from the Latin word "mandatum", meaning a commandment. Jesus, at the Last Supper, commanded his disciples: 'And now I give you a new commandment: love one another. As I have loved you, so you must love one another.' John 13:3